Egg incubators are used to hatch eggs. The most commonly hatched are chickens, but many people also incubate ducks and other birds. The main idea behind incubation is to ensure maximum health of the chicks yet to hatch. Often, your journey to raise chickens begins with your first chicks. You won't have hens to help incubate the eggs. Incubators are always available, come with automatic egg-turning features, help you toggle the temperature controls, and will hatch chicks that are in peak health and ready for rearing.
The best time to start using an incubator is 7-10 days after laying. Protection from extreme temperature changes, carnivorous animals, and inadequate care comes from incubators. You can sit in the safety of your home and work warmth magic on eggs to ensure the chicks inside are well cared for.
From the UK? Top Rated Egg Incubators on Amazon.co.uk
Best Chicken Egg Incubators on the Market
Brinsea Mini II Advance Hatching Egg Incubator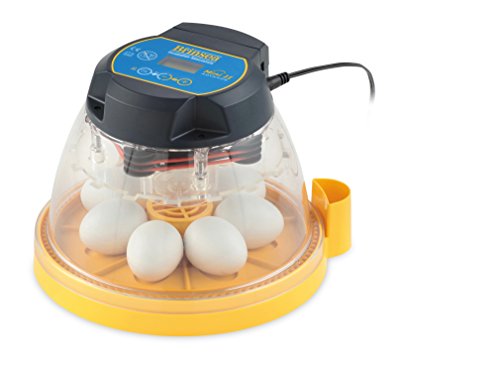 The Brinsea Mini II Advance Hatching Egg Incubator is among the best chicken egg hatching incubators you will find on the market today. This incubator is efficient, and makes work easy for the user. It has fully automatic egg turning features, as well as an auto-stop to enhance the embryo's health. It also comes with a fan-assisted airflow that distributes heat evenly around the eggs. The microcontroller on the other side is essential for the management of the incubator functions, including temperature. These are made possible via the menu that is on the digital display.
A good incubator is one that allows you a clear viewing of eggs. The Brinsea Mini II Advance Hatching Egg Incubator has a clear chamber that allows you to view the eggs while they are inside. The unit includes a 7-egg (hen or duck) capacity, a rotating disk, and a central water reservoir to provide humidity needed for the incubation process. The Mini II Advance also has an external water top-up. A 12-egg rotating disk for smaller eggs (like quail) is sold separately. This incubator has a 12V/18w power rating and it measures 8.0 x 10.0 inches (H x D).
This is an improved version of the Brinsea Mini Advance Hatching Egg Incubator.
Brinsea Mini II Eco Manual Egg Incubator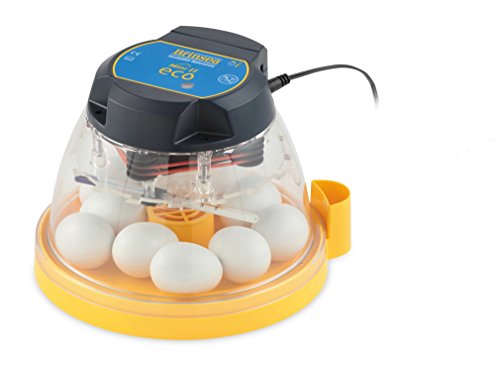 This unit relies on manual turning to ensure the best embryo health. It also comes with a fan-assisted air flow that distributes heat evenly around the eggs. The microcontroller on the other side is essential for the management of the incubator functions, including temperature. These are made possible via the menu that is on the digital display.
Like the other Brinsea incubator, the Mini II Eco Hatching Egg Incubator has a transparent viewing chamber. This unit has enough room for ten chicken eggs. It also includes a similar rotating disk and a central water reservoir for humidity. One bonus it has over the Mini Advance is that it is resistant to weather, oil, ozone, electricity, heat, various chemicals, and tearing.
Some negatives of this one include the fact that it does not automatically turn the eggs. We've found that manual turning yields better success, even with units that offer auto-turning. The plastic main-lid viewer and cover is not scratch-proof, either, which is more of an inconvenience than a true problem.
Farm Innovators Model 4250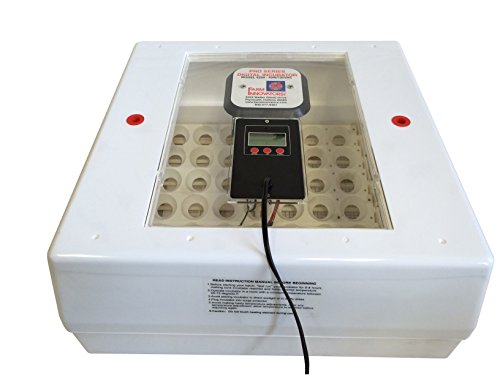 This Circulated Air Incubator with Automatic Egg Turner is ideal for  survivalists, as well as small commercial farmers. It can hold a maximum of 41 eggs, which is significantly more than most of the Brinseas. It has a large viewing windows on top. This makes it easy to observe the eggs during incubation without having to open the unit. It has a built-in hygrometer for measuring temperature as well as humidity. To stabilize the internal temperatures and improve hatching, a fan is included to draw fresh air into the unit.
The Farm Innovators Model 4250 Digital Circulated Air Incubator with Automatic Egg Turner is an automatic unit, eliminating manual handling. (Too much handling can affect your hatch rate.) A red light indicator tells you when the heater is running. This machine turns the eggs every four hours, and even has an extra thermometer. Its durable plastic cover protects the incubator from harsh conditions and makes it easy to clean. It is made of recycled polystyrene foam, rated at 120 V, 40 watts and 0.33 amps.
On the downside, the thermostat on this incubator is extremely sensitive, and the built-in thermometer may be inaccurate. We recommend you check the unit with another thermometer periodically to make sure everything is well.
Magicfly Digital Mini Fully Automatic Egg Incubator

The Magicfly Digital Mini Fully Automatic Egg Incubator is another of the best-quality incubators you can find for chicken eggs. Like the above product, the unit is made from PC + ABS. These are durable and healthy safe materials. This unit has a clear cover to you can see inside. It's also a high-efficiency incubator. It features an automatic thermometer and fully automatic egg turning features.
This unit is very simple to use – perfect for those interested in incubating goose, chicken, and duck eggs. Its transparent design gives you a full view inside as you watch the hatching process. It comes with a full-LED display for enhanced clarity and confidence. The unit has a capacity of ten eggs, measures 14.5 X 10.25 X 6.7 Inches (L x W x H), and rates at 110V (for domestic use only).
Our biggest complaint with this machine was the lack of hydrometer. Apart from that, this one looks promising.
HovaBator Deluxe Egg Incubator Combo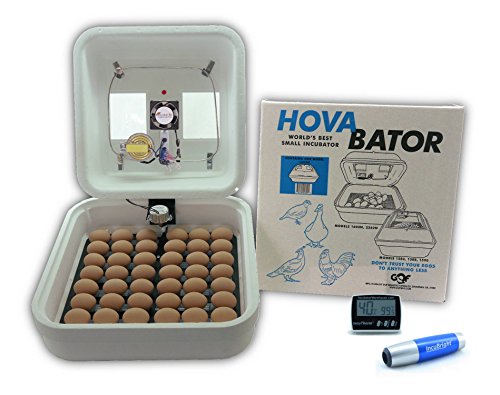 The HovaBator Deluxe Egg Incubator Combo comes with a digital hygrometer/thermometer, egg turner, fan kit, and the incubator itself. The unit comes with a snap-action thermostat and an easy-to-clean sanitary liner. It is made of Styrofoam – durable enough to help the incubator retain warmth. This incubator keeps a relatively constant temperature range. With its viewing windows measuring 5″x 4″, the incubating eggs can easily be observed without opening the unit. This makes it an appropriate option for educational purposes. It has a capacity of 42 chicken-sized eggs. The standard is 110V, although 220/240V versions are also available.
The eggs are automatically turned six times per day with universal-sized rails for 41 eggs. It is dishwasher safe and is easy to clean. The new and improved air fan kit balances temperatures as well as supply fresh air to the incubator. The digital hygrometer and thermometer on the other side comes with a battery to let you read the humidity and temperature and adjust when necessary. It also comes with a min/max temperature and humidity warning signal when adjustments are needed.
What you may not like is that you will need to fiddle with the temperature and humidity to get it right. In addition, the thermo/hydrometer in the kit is not great, even though the product itself is.
GQF 1588 Genesis Hova-Bator Incubator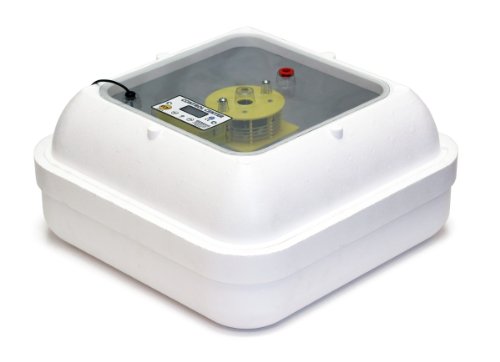 This Hova-Bator Incubator is one of the most ideal units for use by small scale poultry farmers. It is also a perfect unit for use in laboratory settings and classrooms. The unit features a thermostat for automatic regulation of temperature. However, the common setting cannot be affected by any change in humidity, dust, or temperature. You can set the thermostat to settings that are as low as 60°F. It has a capacity of 50 chicken/duck or 130 quail eggs and measures 18-1/2″ x 18-1/2″ x 9-1/2″. It also includes a picture window and a plastic bottom liner, as well as an LCD display for actual temperature, humidity, and set temperature. A one-year manufacturer's warranty comes with the purchase. This is a unit worth buying, especially for those who need to understand everything about incubating and hatching eggs.
Its main drawbacks include lack of plastic shell protection. It's a Styrofoam box. You need to buy an automatic egg turner separately, or repeated use of the lid can damage the Styrofoam.
Brinsea Ovation 28 ECO Automatic Egg Incubator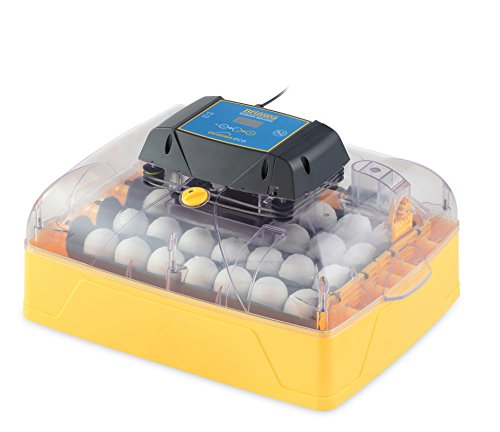 Maybe it's the non-thermal foam and fan assisted air flow with its new Induced Dual Airflow system, the 99.5 degrees F preset option, or the ability to change preset temperatures. The new Brinsea Ovation 28 ECO Incubator is an exceptional product in its range. The electronic temperature control cuts risks and promotes a greater hatching rate than other incubators in this price range. The product can incubate different species, with optional size trays, which means it's also versatile.
With more simplicity than features, this incubator is great for budget-conscious poultry hobbyists. If you're looking to hatch a batch of 28 eggs in one session, this is a great choice. A conventional thermometer provides accurate readings. The temperature itself comes preset at 99.5 F, making it easier for you to get started. Proportional band electronic temperature control brings much needed accessibility before and during the process. A flashing temperature indicator makes things even easier, with high and low incubator and room temperature alarms.
The injection-molded incubator cabinet is made of high grade ABS with Biomaster™ antimicrobial plastics – durable and easy to clean. You get a clear view into the chamber thanks to the clear incubator top. A long-lasting computer-grade fan does all the air-circulation, and a vent slider helps control it. Two water reservoirs at the incubator's base help play the role of humidifiers, with easy water top-up with level indicator. The dividers in the egg tray can be moved to accommodate different egg sizes.
The Brinsea Ovation 56 EX Egg Incubator

This product is an automatic egg-turning incubator just as its name suggests. It has been newly designed with simplicity in mind hence very easy to operate. The digital control system is simple yet highly accurate. The fully automatic humidity control system has an optional advance humidity pump. It is the most essential unit for those medium-sized farmers, having a capacity of 56 chicken eggs. It is also suitable for a wide variety of egg sizes with an optional tray available.
The Brinsea Ovation 56 EX features a robust hygienic construction made of ABS with Biomaster™ antimicrobial plastics. This makes it easy to clean. In addition to its temperature alarm and periodic cooling, it also features the choice of either °C or °F. The Ovation 56 EX comes with humidity control. A vent slider is added in the design to aid in the circulation of fresh air, while a two-water reservoir system in the base provides humidity. To ensure excellent temperature distribution, the base of the unit is double-skinned and filled with foam, which makes it use less power.
Automatic turning, automatic humidity control and comprehensive alarms provide reassurance of hatching success. Set the temperature and humidity you require and let the automatic controls do the rest. This is an upgraded incubator that will give you peace of mind without much effort on your part. And it comes with a three year warranty.
Things to Consider
When making any purchase, there are a number of things you'll need to consider. First, keep in mind your budget. While more expensive incubators may have extra features, even the most basic ones will have everything that's needed. Don't spend more money than you have to!
You should also keep in mind the incubator's included features. For example, some may come with a thermometer or may be fully automated. Your needs should determine the features you decide on – not all projects are the same!
Lastly, consider your experience. While most incubators are just fine for a beginner, the more advanced machines may have features that complicate your learning experience. When in doubt, go with a smaller investment – this should be enough to help determine if it's worthwhile to you.
Types of Chicken Egg Incubators
There are two main types of chicken incubators that have been used for several decades to hatch eggs. These have been used for practical lessons in schools, serious poultry breeding, and more.
Forced air incubators or Automatic Incubators
Still air incubators or Manual Incubators
The forced air incubator is, in most cases, used in the incubation of large numbers of eggs. These incubators are designed with a fan that circulates both the warmth and fresh air more evenly in the incubator and around the eggs. Most of them come with the automatic egg turning feature.
On the other hand, the still incubators are mostly used in the hatching of smaller numbers of eggs.  They are mostly manually controlled as the eggs need to be regularly turned manually by the user himself.
Advantages of Using Chicken Egg Incubator
Usable for different breeds: Hatching of eggs in itself opens up a world of different breeds, which would otherwise have been difficult to get. An incubator can be used to hatch different species and classes of birds and reptiles. With a single unit, you can start raring reptiles such as ostriches and parrots, which may have been difficult to catch
Life: It is interesting to rear up different chicken breeds, a factor that enhances historical integrity. It is cheaper to raise a variety of breeds by hatching them using an incubator than buying already grown ones.
Cheap and easy way to transport: It is easier and cheaper to transport eggs than chicks. Small chicks can be stressed by the noise, or can even experience environmental shocks in the new environment. This can be solved by transporting an egg and hatching it in the environment you want to bring up the chick in. Transporting already hatched chicks or adult chicken can lead to chilling, pasty butt, and even death. There are regulations on how and when to transport chicks. However, there are relatively no regulations on the transport of eggs, hence it's easier to bring up a new breed by the use of eggs rather than by the use of chicks and hens.
Portability: Eggs are ordered according to the number you are interested in. You can buy one, two, three, ten, or a hundred according to your interests and needs. On the contrary, chicks from hatcheries usually have a minimum order of 25 chicks. This is quite unfair in the event that you needed only three.
Cost effective: The heating device used to mail chicks to your farm may be quite expensive, as most hatcheries charge their customers for that. This device can cost an average of $50. It will be quite expensive if you are buying a small number of chicks.
Learning experience with a personal touch: Hatching from your own incubators gives you confidence about the health of the chicks, as you know what you have fed them from the first day. This is unlike bought chicks and hens that you are not aware of the care given to them. You have the choice of either vaccinating your chicks or not. It is also a very great way of witnessing and learning technological advancements in the world.
Conclusion
The incubation of chicken eggs is a process that is fun and easy, as long as you choose the most appropriate unit for you. Different incubators come with different control settings and hatching functions. For instance, small-scale poultry farmers will find the GQF 1588 Genesis Hova-Bator Incubator better than the Hova-Bator Advanced Egg Incubator Combo. Regardless of the budget you have for your incubator, the most important thing is to monitor the incubator and recording notes during the process. Automatic units that have preset displays can be essential in eliminating the need of any offline recording. All the information is displayed and stored in the machine itself. To get the best unit, ensure that you perform comparison between temperature as well as humidity settings before looking at other aspects.