As tabletop incubators go, the GQF 1588 Genesis from Hova-Bator is one of a kind. Even though it looks quite similar to some other incubators in the same product type and range, the Genesis enjoys a spotlight all to itself. Whether it is hobbyists or home breeders, even teachers who give out embryology classes, and where small-scale hatching projects are concerned, this product comes highly recommended.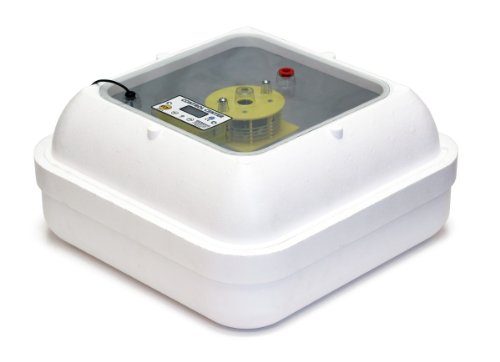 Main Features
Integrated fan and heater add to the convenience of cleaning these components.
The GQF 1588 Genesis Hova-Bator Incubator can hold 50 chicken eggs, which is quite an enviable capacity.
It is designed with a nesting top and bottom, meaning it can stored aside when not in use and it will not take up space.
A keen safety feature is its preset temperature setting with tamper-proof adjustments.
A deep basket design allows larger eggs to be incubated.
An ace transparent window makes viewing amazing. There is a wide area of viewing. The only downside to this particular point is that the window sits on the top of the incubator and is not angled to help viewing away from the counter or if you were at a distance; like you would see with the 360-degree transparency of one of the Brinsea products. There are no sharp angles in the design to allow for better air circulation in the GQF 1588 Genesis.
Start Up
You need to let the whole incubator stabilize in temperature 24 hours after you assemble all the components. After that, you simply need to fill the water trays, add the screen and eggs, and initiate incubation.
Temperature Control & Settings
There is a constant temperature-holding rate of 99.5 degrees. You do not even need to adjust this for chicken eggs; it is standard for them. This is also quite the safety feature because if you are teaching a class of kids their playing around will not affect progress inside the incubator because the temperature is locked, so to speak. The inside top of the unit has an adjustment panel in case you are going to use other eggs and wishes to alter settings. You have detailed guidelines in this product package to help you perform all this.
Power Marvel
This could well be the GQF 1588 Genesis bestseller point.  When the power goes out, the 12v unit that is the incubator itself runs on an adapter cable plugged into a wall socket and can readily run on a 12v battery power supply instead. All you need do is clip it to an apt source; car, snowmobile, lawnmower, etc. This makes the Genesis great during emergencies or even if you urgently need to leave someplace. You can hatch the egg batch in your car or truck using a battery clip-on source.
Accessories
While plenty of essentials come along with this product, there are a couple of important accessories that are sold separately.
Get a 12v adaptor for when you have a blackout.
The Optional Hova-Bator GQF Automatic Egg Turner is the ideal accessory for the GQF 1588 Genesis Hova-Bator Incubator. It does an excellent job of turning eggs on a 4-hour cycle. It also has a tray that can hold 41 chicken eggs.
Affordability & Design
There is a good reason why the GQF 1588 Genesis is surprisingly inexpensive. This is because most of its design is made of Styrofoam. While the material is ideal for temperature consistency and spread, while also making the incubator lightweight and easy to clean, it can be a little less durable over the long term. There are, after all, common problems concerning Styrofoam. It is fragile and could break if someone, say, sat on it. There seem to be no replacements for the Styrofoam in the Genesis incubator. Finally, Styrofoam is flammable. While it is generally cheap looking, the Styrofoam design on the GQF 1588 Genesis is quite attractive.
Conclusion
With an outstanding 95-100% hatch rate guarantee, the GQF 1588 Genesis Hova-Bator Incubator is an excellent product and comes highly recommended. Its ability to function optimally even in the absence of electricity, and after being connected to a battery source, gives it superb value for money and everyday practicality for modern hatching enthusiasts, teachers, hobbyists, and professionals. The design is top notch. Except for the few small points on Styrofoam mentioned earlier, the Genesis looks and works great.